Almost 600 km2 make up our beloved island, of which 210 km are stunning beaches. Each one different and special, some made of pebbles and others of fine white sand, virgin or with all kinds of services, …but each and every one of them unique. On our "route" today, we're going to the south of the island, where we'll find 3 of the longest: Ses Salines, Es Cavallet and Es Codolar, the first two located in the Natural Park of Ses Salines of Ibiza and Formentera and the third at its edge.
We start with the closest to Ibiza city: Ses Salines. Its entire length is composed of very fine and white sands of natural origin. In its extreme south we will find rocky corners with entrances to the sea forming curious natural pools. This beach wonder is located in the Natural Park of Ses Salines, next to the salt ponds. In its surroundings we find trails between the pine trees and coniferous vegetation that are typical of the island and on the horizon from the beach we can see the Islets of Freus and the island of Formentera.
*Dining recommendation: Here you can stop to try the homemade pizzas or the Mediterranean-Asian fusion dishes at the Jockey Club.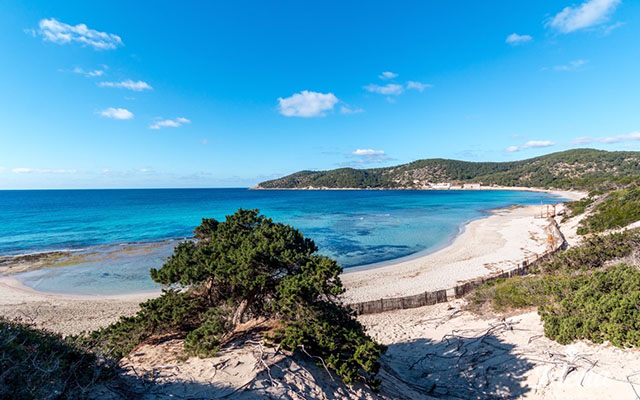 Continuing along the coast in the opposite direction to Ibiza city, we move to Es Cavallet, also located within the Ses Salines Natural Park. A long stretch of fine white sand similar to Ses Salines where we also find crystal clear waters and pure natural surroundings with the typical conifers of the island. This beach is officially nudist, so it is perfect for those looking for a beach where they can practice this activity. In the summer months, there is usually quite a swell due to its eastward-facing orientation, but it is still a calm and beautiful beach.
*Recommendation: Take a walk along its length until you reach the Ses Portes watchtower.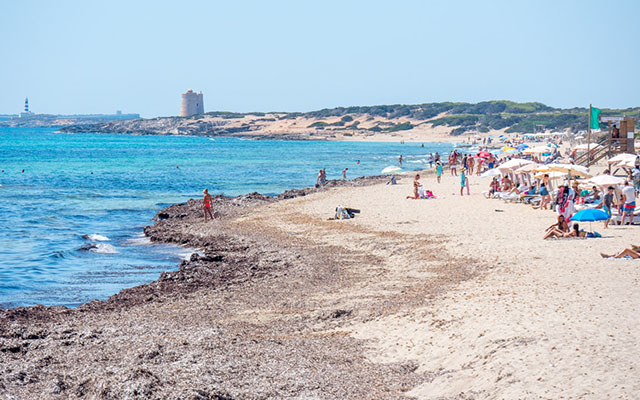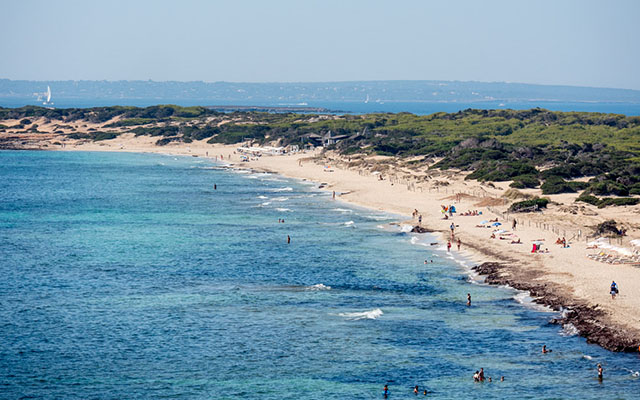 We continue our walk along the beaches of the south of the island, reaching the rugged Es Codolar beach. Many will be surprised by its physiognomy since its coast is covered with pebbles or boulders. This creates a beautiful landscape that merges with its clear waters and beautiful views, as well as the proximity to the salt ponds that endow it with greater beauty. It's a highly recommended beach for those who seek places that are not very crowded and of great natural beauty.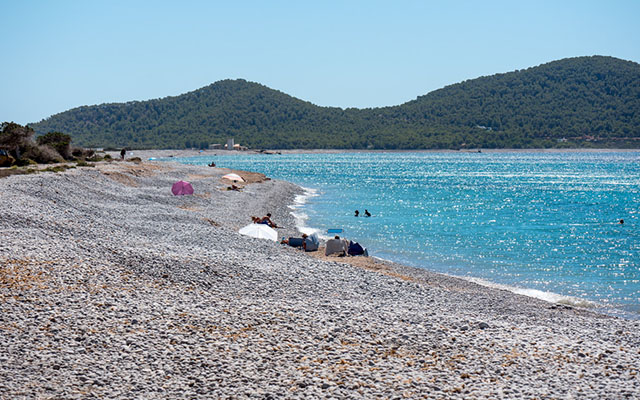 *Recommendation: Reach the cliffs of Cap des Falcó to see the sunset. You can also enjoy a good cocktail at sunset time in Experimental Beach.