The north of Ibiza boasts the best natural essences of the Mediterranean island: crystal-clear waters, hidden coves, rugged cliffs, verdant forests, tempting trails, and much more. A paradise that's well worth discovering.
If you don't have enough time to explore at your own pace, we've taken the liberty to choose a handful of must-sees just for you. Their common denominator is that they share the seaside charm of authentic fishing coves.
We'll start with two that are well off the beaten track: Port de Ses Caletes and Es Portitxol. Port de Ses Caletes is located in the municipality of Sant Joan, in the area of Sant Vicent de Sa Cala. This beautiful village features a crescent-shaped pebble beach, sheltered by a prolonged rocky ledge that forms a truly picturesque setting. It's reached by a winding detour off the road from Sant Joan to Sant Vicent. The fishing boat sheds are the only testimony of activity, as the cove doesn't have any type of services. A paradise for peace and the five senses.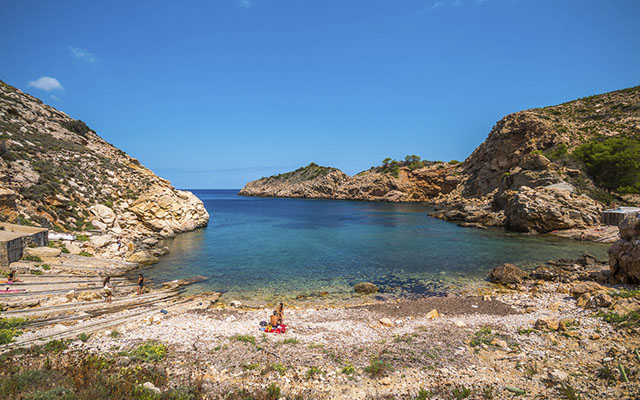 Port de Ses Caletes
If you then head west to the area of Sant Miquel, you'll come across Es Portitxol. Definitely the hardest of our recommendations to get to. And like any truly hidden cove, you can only reach Es Portitxol by walking along a small path that starts from the bottom of the Isla Blanca development. You can arrive at this starting point by taking a detour from the road between Sant Miquel and Sant Mateu. Once you've passed the residential development, the tarmacked road turns into a pebbly descent right down to the foot of the cliffs that characterise this part of the island. Make sure you wear comfortable shoes and take enough water for there and back. The walk commands fabulous views out to sea and after about half an hour, you'll be rewarded by a privileged cove dotted with fishing boat sheds. From there, the fishermen set sail on their llaüts to catch fish like their forefathers did centuries ago. This is a great place to unwind, soak up the Mediterranean essence and enjoy a refreshing dip in the sea.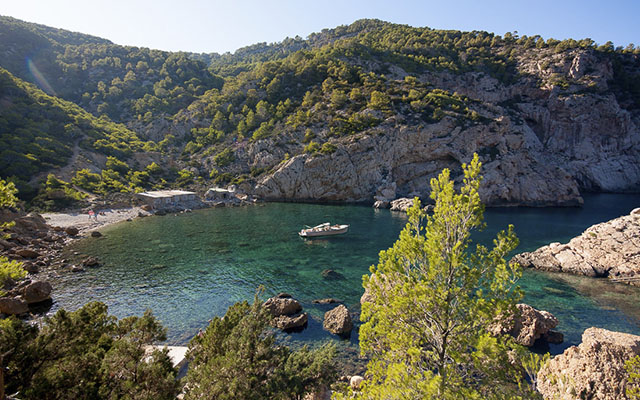 Es Portitxol
In the area of Sant Miquel, specifically in the Port de Sant Miquel, you'll find possibly the smallest jewel in the crown of fishing coves. We're talking about Caló des Moltons, just twenty metres long. But we all know that the best things come in small packages… To get there, take the narrow path to the left of the main beach of Port de Sant Miquel. What's more, there's an amazing beach bar where you can savour sardines with your toes in the sand.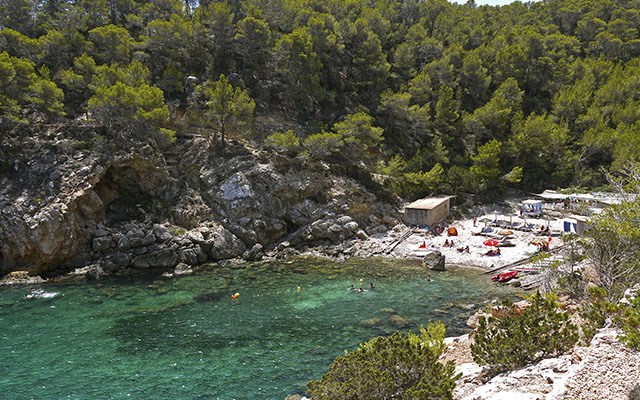 Caló des Moltons
If you head back towards the east, around the area of Sant Carles, follow the signs to Pou des Lleó and you'll get to Canal d'en Martí, an authentic natural harbour with boat sheds on both sides. What's more, there's a stunning beach with a pocket-sized dyke from which you can admire the transparent water. It's worth checking out the simplicity and charm of the uncovered boat sheds, built taking advantage of the flattest rocky areas, and consisting of two simple lines of wooden beams, usually juniper, which are submerged in the sea.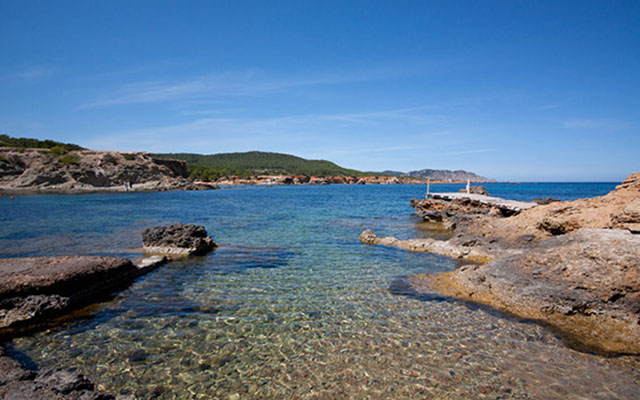 Canal d'en Martí
Your senses, especially taste, will be greatly rewarded at Cala Mastella, a prototype of a quaint fishing port anchored in a charming little bay. On the hand-built dock to one side of the beach, where the llaüts that bring in fresh fish are tied up, you'll find a rudimentary but truly mythical beach bar: El Bigotes. Authentic food cooked by fishermen in their very own environment. There's also a wide sandy beach here with a small beach bar.