We're continuing our tour around the island's most tempting beach bars, which cherish all the Mediterranean essence of yesteryear and are perfect spots for sipping on an ice-cold drink on a hot day or admiring Ibiza's famed sunsets.
We're starting off in Sant Miquel with the legendary  Es Pas de s'Illa, nestled on the strip of land that connects S'Illa des Bosc with the coast of Port de Sant Miquel.  This chiringuito boasts more than thirty years of history and serves up grilled meats, sandwiches or salads right on the beach in a pleasant and welcoming atmosphere thanks to Tete and Sofia, with the help of Juanito, Joel and other family members.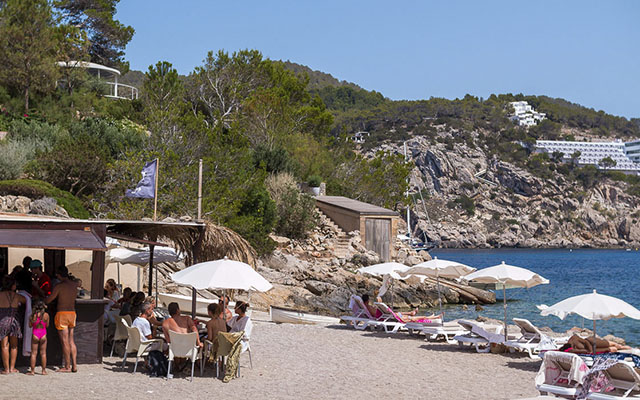 Next stop is the shore of Cala Nova to discover the small wooden beach bar run by the Can Colomaret family for more than thirty years now. Here you'll find an extensive menu with salads, sandwiches, omelettes and salads at really affordable prices. One of its biggest draws are the meats and fresh fish. Ask what the fish of the day is; they usually have very interesting catches.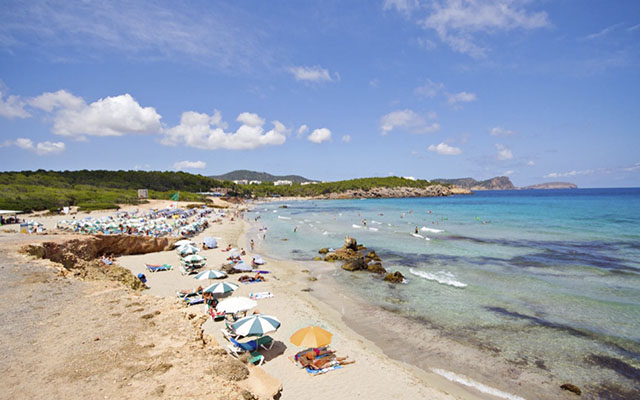 Then we're off to the stunning beach of s'Aigua Blanca located between San Carlos and Cala San Vicente, sheltered by towering cliffs and lapped by turquoise waters. On this famous beach in the northeast of the island you'll find the typical Aguas Blancas chiringuito, where you can enjoy a casual meal of toasties, sandwiches and salads washed down by a great mojito. Due to the majestic cliffs that look over this spectacular beach, the sun disappears at around 6.00 pm in the summer, so head there early if you fancy some sun worshipping.
To round off our recommendations of beach bars, we're heading to Sant Antoni, home to the famous Aquarium of Es Cap Blanc. This natural marine cave is also known as Sa Cova de ses Llagostes, Sa Cova des Peix or Sa Cova des Vell Marí. This quirky aquarium is next to a small waterfront terrace where you can enjoy a cold beer watching the sunset or savour its signature sardines on Thursdays, Fridays and Saturdays from June to September. They're only served for two sittings and booking is required (you'll see why!). More info here.