Ibiza is a destination that attracts all kinds of people from all around the world and it is no wonder that this cosmopolitan nature is also reflected in the various businesses, shops and services here. Over the years, many cosmopolitan shops have settled on the island with a strong identity and unique products impossible to find elsewhere.

We will unveil the most interesting places to make your summer shopping and take back home exclusive designs and garments.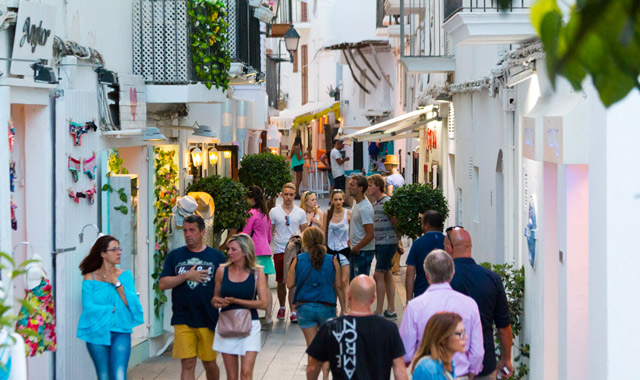 La Marina, Dalt Vila and Adlib fashion
We have mentioned many times the wonders that are hidden among the narrow streets of the port district and the area of ​​Dalt Vila, but you may not know that these are very attractive places for shopping. Among the myriad of bars and restaurants in the area you will find various boutique shops, each with its own style and a wide range of fashion and garments for all kinds of tastes.
In the port of Ibiza and its vicinity the vast majority of streets are restricted to traffic so that visitors can wander freely. One of the busiest spots is the Plaza Antoni Riquer where every evening there's a colorful craft market that goes all the way inside the streets of La Marina. Here you will find all kinds of products, from handmade jewelry to classic souvenir shirts. If we continue walking these streets, around the Mercat Vell there are several iconic Adlib style boutiques, one of the most famous is Ad Libitum which has been open since the 70s and where you'll find the fashion lines of legendary Ibizan designer Charo Ruiz. And as you continue exploring the port area and Dalt Vila you'll see that this style is prevalent throughout these districts and is the perfect place for finding unique fashion and garments.
To finish off this small fashion tour, we recommend going to the nearby Paseo de Vara de Rey, where fashionable brands such as Ed Hardy and Custo have their own stores. The neighborhood is full with historical businesses like Bonet hat shop, open since 1916, or the legendary Jose Pascual 'sanallons' shop which for decades is the leading retailer to these typical Ibicenco baskets. In short, a very mixed neighborhood for doing unique shopping.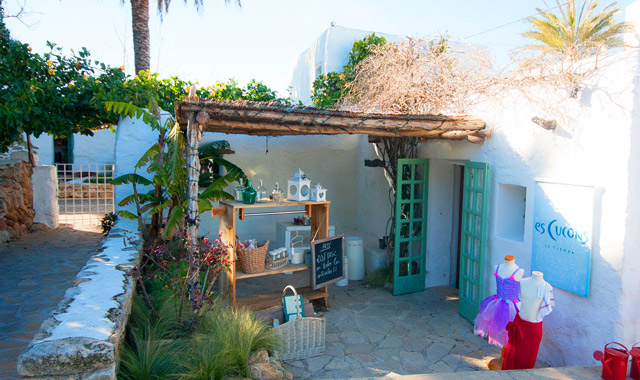 Santa Gertrudis
Few countryside villages have so much charm as Santa Gertrudis, located right in the heart of the island. Here the rural atmosphere prevails and which attracts all kinds of people who enjoy the good weather in the lively village plaza. And despite receiving so many visits, this village still keeps the essence of yesteryear and the variety of new businesses that have been settling here in recent times gives it a very colorful touch.
Here there are many small boutiques such as Es Cucons, where you'll find bohemian and chic fashion and accessories, as well as other shops like Te Cuero, specializing in the most original accessories and leather goods. Other establishments such as the auction house Casi Todo, since 1973, complete the site of this unique village.
And a few kilometers from Santa Gertrudis, on the roadside towards Ibiza Town, you will also find two of the most original shops on the island: Sluiz and Galería Elefante. Sluiz in particular is notable for the size of its premises and the vast amount of decor items and curious furniture you can find there. Fashion is also present in this shop where you can get all kinds of garments and accessories for stylish men and women. And finally nothing like trying any of its exotic delicacies in its food court. And across the road you'll find Galeria Elefante where the colorful decor items and objects from all around the world are the protagonists of their huge display distributed in throughout a typical Ibicenco house. Such a small village never had so many options when going shopping.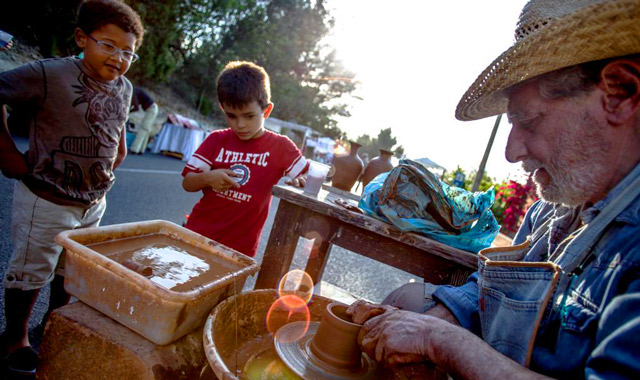 Sant Rafel and the craft market
To end this small shopping guide we want to take you to another of the lovely inland villages of Ibiza, in this case we are going to Sant Rafel where every Thursday during the summer, from 6pm to 11pm, many craftsmen set up their stalls to offer their best works and products. And in this village, declared of cultural interest for its ceramics production it is foreseeable to find a market of this kind where you can buy typical ceramic objects, souvenirs, and other typical products of the island.
Here you'll find from master potters developing their clay objects to Ibizan craft spirits and homemade honey from Ibiza. The aim of this exhibition is to bring together the best authentic artisans of the island that under a strict quality criteria they can put their own stall and offer their craft products. It is for this reason that in this market you won't find any imported or manufactured goods. Everything that is sold here is made with patience and the care of skilled hands.