Who of those lucky enough to tour the beaches of Ibiza have not stopped to admire those authentic and traditional fishermen's huts  that can be observed in most of Ibiza's coves and beaches? They are beautiful, aren't they? Find out a little bit more about them…
These small buildings are built, between the rocks and cliffs, and are often in the most remote places. Both professional fishermen  (there are few remaining), and amateur Ibizan fishermen keep their boats and other fishing gear here for "la mar"  (as they call it), typical of most artisanal fishing. They are also very interesting little  springs  in front of the huts, which
are man-made and provide access to the sea. Some of them have more than one hundred years old.
There is not usually much movement on weekdays, just the odd fisherman, but at the weekends it is common to see their owners and their families enjoy a day at the beach, sunbathing, eating and enjoying their day…
As mentioned, you can admire sights and enjoy the entire coast of our island of Ibiza, but there are places where it is really a show, such as in the Cala d'Hort beach or Porroig, on the south coast and Canal d'en Marti beach (Pou des Lleó), Port de Ses Casetes, Portinatx beach, Es Portixol, Calo des Moltons,  on the nort coast.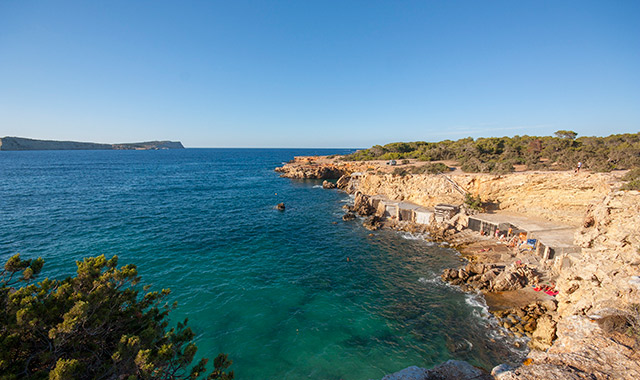 Inside, among other things, the "llaüt" is stored, which is the ultimate and most traditional fishing boat of the islands of Ibiza and Formentera. They are very common sights on the sea, despite the current modern boats. They are a real folk craft gem, and something from Ibiza's past that is very much alive. Their consistency and stability in the sea make them a boat that is perfect for all kinds of activities, such as boating and fishing.
Not many years ago it was common, and it is still possible, to see llaüts arrive to the coast with fresh fish, johnny dory, rotja, amberjack, denton, octopus, squid and cuttlefish, which are some of the varieties that are caught in the kite hooks or trolling lines in Ibiza. True treasures of the sea.
In the blog  for the  Can  Planells hotel  we will continue to weekly suggest wonderful places, spots and activities to enjoy Ibiza to the full.