When looking for an ideal beach you'll see that the island has so many options that you could practically visit a different one every time. Every corner of the coast has its charm that makes it special: rocky beaches, fisherman huts, fine sand, calm waters, interesting seabeds… Do you also want to find that special place that will make you feel like in paradise? Well, here is one of the most impressive beaches of the island, a paradise in the north where you will have all the necessary services to enjoy your beach day to the max in a comfortable way.
Join us for a day of fun in Portinatx.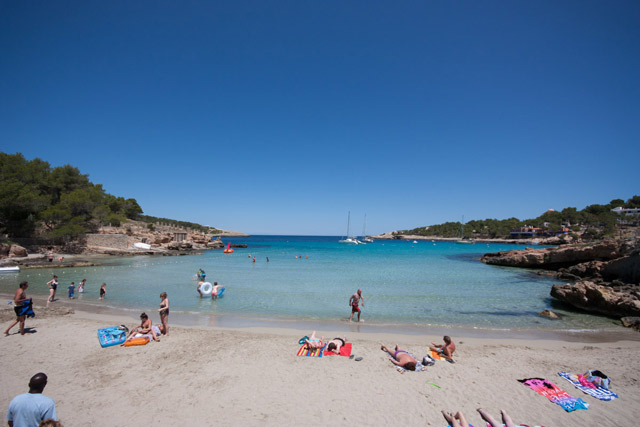 Portinatx And Its Surroundings
The first thing you have to know about this beach in the northwest of the island, is that it's not just one beach. It is a set of three beaches along the bay, known as: Arenal Gros, Arenal Petit and Port de Portinatx. This last one has all kinds of rental services such as pedal boats, sunbeds and watersports equipment. It has the most fishing activity going on of the three, in its bay there are several 'llauts', typical Balearic fishing boats. The large sandy areas, which are closer to the hotels, are perfect for resting and relaxing with its clear and shallow waters. A promenade connects both beaches and the whole area is full of restaurants and shops adding comfort to your beach day. This beach is ideal for those seeking peace and tranquility and for those who want a beautiful and safe place to enjoy with the little ones in the family as there are practically no waves and have shallow waters. In addition, apart from the wonderful coves comprising Portinatx, very near you'll find Cala Xuclar and Cala d'en Serra, two beach coves with a special charm, away from the tourist resort, where is also worth going to enjoy the views, especially while having a cold beer at any of its beach bars.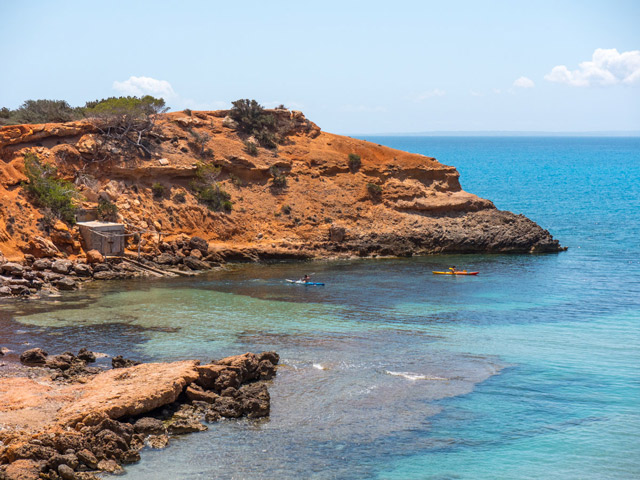 What To Do
One of the good things of such varied and well-equipped beaches like Portinatx is that there is a perfect activity for every visitor. In all of the sandy areas you can get sunbeds and parasols and enjoy everyone's favorite activity in the summertime, the summer break. A time perfect to unwind on the waterfront, forgetting about any worries. And if you prefer a little bit more of action, you can rent a pedalo or a kayak and explore the area. The calm waters of the Mediterranean are perfect for going on water excursions. And if you prefer dry land, nothing like a walk in the north side of this beach in search of its legendary lighthouse. A path where you'll discover the wilder side of this coast and watch a breathtaking sunset. An easier walk, but with some history, is the Portinatx defense tower, another very interesting monument perched on the cliffs south of the beaches. Adventure also awaits you underwater. In Portinatx you'll find diving center Subfari, a perfect opportunity to enjoy a unique experience that will take you to discover the seabed of Portinatx, where there are plenty of caves to explore teeming with all kinds of marine flora and fauna. If you've never tried scuba diving, Ibiza is a great place to try it.
Where To Eat
As a tourist resort, Portinatx concentrates a great variety of restaurants, a fantastic thing if if you are traveling with children and want to have the table near the beach. It will also be easy to find a restaurant that appeals to the small ones and grownups, as international dishes are present in the menu of most of them. But if you are looking for something more typical, the road that leads to Portinatx has many detours to other beaches in this part of the coast where we can highlight Cala Xuclar, Cala Xarraca and S'Illot des Renclí, three very authentic beaches where you will find the flavor of Ibiza's seafood cuisine. A great example is the exquisite Guisat de Peix (traditional fish stew) whose aroma fills the tables of the restaurant S'Illot. A unique dish in a beach cove just as unique, a recommendation for authentic gourmets.