Everyone knows that Ibiza boasts a whole host of wonderful beaches and coves. Crystal-clear waters, fine sands and a variety of environments. Some more family-friendly, some more fashion-friendly, some quieter, some cooler… in short, a great choice of fantastic beaches. And one thing that everyone likes… the beach bars.
Apart from lazing on a lounger, sunbathing and taking a dip in the sea, one of the biggest attractions of Ibiza's beach life is the possibility of eating and drinking right by the water. And all with great quality.
Ibiza has a different but very attractive way to savour its cuisine: beach bars. Normally they're small temporary constructions, almost like a shack, with a laid-back and chilled-out atmosphere and excellent service. Most of them have been making their customers happy for years and years. Some have even morphed into super-cool beach clubs, with DJs, parties and a multitude of services. But many of them are just like they were years ago, retaining that particular essence of an authentic Ibizan beach bar.
Let's start with one of the essentials: El Bigotes en Cala Mastella. in Cala Mastella. This rustic chiringuito (as they're known in Spanish) has built up an excellent reputation over the years, which comes as no surprise at all. Its creator, Juan Ferrer, would often prepare a bullit de peix  (fish stew) for friends with catches brought in on his llaüt.  This tradition began to gain fame, so it's now been forty years that a traditional and very affordable bullit de peix has been served here.
A few tables on the rocks of Racó d'en Xic, next to Platges de Comte, natural juices and live music with views of one of the island's best sunsets. That's what you'll find at the Chiringuito Cala Escondida, one of the most popular beach bars on Ibiza. Interestingly enough, it's totally ecological. At the end of each season, the owners dismantle the chiringuito and leave the area as if they hadn't been there at all. It also features solar panels and the staff try to spread the #PlasticFree philosophy.
Another great option is chiringuito de María (Sa Punta). A lovely beach bar located right on the shore on the far left (looking to the sea) of the beautiful Talamanca Beach. Fascinating dishes are cooked up by María, the owner, with freshly caught fish and tasty grilled meats. What's more, you can marvel at the stunning views of the old town of Ibiza (Dalt Vila).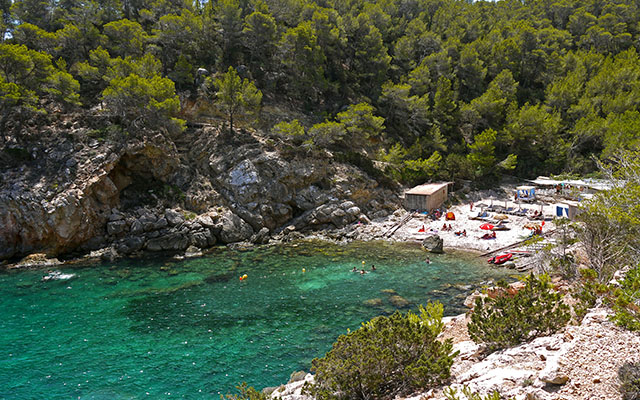 Very close to Port de Sant Miquel, specifically on the Caló des Multons Beach, is El Chiringuito Utopía, a wonderfully laid-back place with sun loungers and even daybeds. It also has a menu of simple and natural dishes, salads and sandwiches.
And make sure you try the cocktails!