November has arrived to our lovely island. And for those who love the traditions and want to know the most authentic side of Ibiza, we have two important dates. The Festivities of Sant Carles de Peralta, 4th of November and the big day of Santa Gertrudis, on the 16th of November.
These Fiestas, as we said, are for enjoying the authentic Ibiza folklore and traditions, as well as live concerts, institutional acts, sporting events and many other events.
The big day of the village fiestas in Ibiza usually begins with a solemn Mass in the parish church followed by a procession through the streets of town in honor of the patron saint. Also, they held exhibitions of Ibicenco traditional dances (Ball Pagès) and tastings of the most typical Ibiza food products, such as "sobrasada", "butifarrón", "orelletes", "bunyols" and "vino payés" (peasant wine).
A perfect day for visiting Sant Carles, a very traditional Ibicenco town in the north part of the island of Ibiza, one of the more rural areas, full of harvest fields and beautiful "casas payesas" (traditional Ibicenco farmhouses). In San Carlos, you can visit the legendary Bar Anita (Ca n'Anneta), where you can taste the traditional and famous Hierbas Ibicencas liquor, made ​​by themselves.
In the Fiestas of Sant Carles, it has become very popular in recent years, the "Grand Prix Pagès Festival" (The Peasant Grand Prix), a game contest which consists of different physical and mental challenges combined with traditional games of Ibiza where the teams (which have to go with a costume) compete to be the best. And the punishment for those left behind in the challenges are Hierbas Ibicencas liquor or Ibiza peasant wine, so fun and laughs are guaranteed.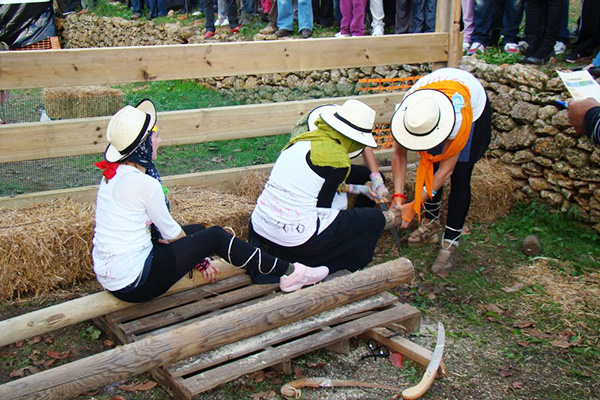 And we could say the same about Santa Gertrudis. A perfect day for visiting this popular little village is during its Fiestas. Right in the heart of the island of Ibiza. A crossroads between Ibiza town, San Miguel, San Lorenzo and San Mateo. A village with plenty of atmosphere all year round and where you can sense a bohemian touch. It has always been a meeting spot of all kinds of artists, such as painters, musicians, sculptors… And still today, in many of its bars, restaurants and other businesses, art has a strong presence. You can enjoy many sports and leisure activities, live music concerts, food tasting, tours and much more, …On the night of 11th of November, Great Party "La Movida", Spanish pop music of the 80s and 90s.
Don't forget, 4th of November Sant Carles fiestas, and the 16th of November Santa Gertrudis fiestas. Patron Saint Fiestas.
See you next week with more interesting suggestions. Have a happy week!