We're in one of the most emblematic places of Ibiza today, that goes without saying. It's located in the southwest of the island and belongs to the town of Sant Josep. You probably already know this beach (even just from pictures) thanks to its unmistakable horizon crowned by the impressive islet of Es Vedrà and her companion Es Vedranell. Besides these unforgettable views, the beach cherishes the odd secret, so let Can Planells reveal them to you: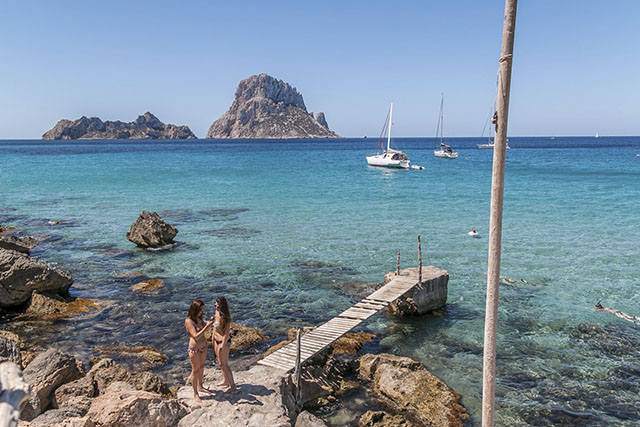 Cala d'Hort is synonymous with great food..
This amazing Ibizan beach is home to several restaurants where you can savour Mediterranean cuisine in all its splendour. From left to right, the first one we come across is Restaurante El Carmen, where they prepare some truly mouthwatering rice dishes with seafood. Next is Restaurante Cala d'Hort (better known as Ca na Vergera, in homage to the founding family), one of the simplest and most charming restaurants in the south of the island, with the signature dish being the fish stew known as guisat de peix. Simply spectacular. And last but definitely not least is the restaurant nestled above the fishing huts on the beach: Es Boldadó. An essential is the lobster stew.
Es Vedrà and Es Vedranell, the leading couple of the beach.
The islets are present from any corner of the beach and embellish the horizon like few other places in the world. Es Vedrà has a height of 382 metres, with a quirky profile and imposing might that have aroused many legends over the years. Many people claim to have seen strange lights identified as UFOs or the legend of the "triangle of silence" between Mallorca, Alicante and Es Vedrà. Legends aside, we love to admire it and feel the peace that emanates in this beautiful place.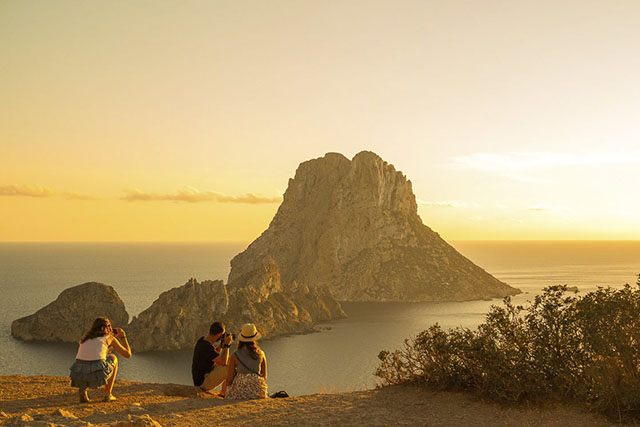 History of Ibiza: Ses Païsses de Cala d'Hort
Just a few kilometres from the beach is an archaeological site of a rural settlement founded in the fifth century BC and which lasted until the eighth century AD. We can see how the Phoenician and Roman, and even Byzantine, populations of the era used to live. We can also find remains of two necropolises of Roman and Byzantine origin.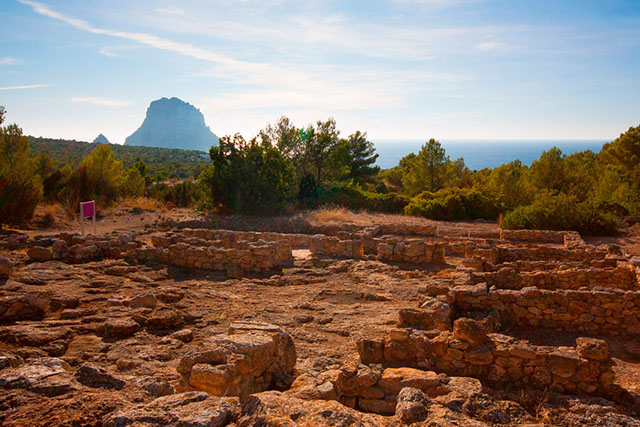 Simply unforgettable sunset.
Following south along the coast is find the Torre des Savinar, perched on an imposing 200-metre-high cliff that once served as a watchtower to prevent the looting suffered by the island. Its purpose nowadays is slightly different, as it's perfect for admiring the view of Es Vedrà from here.
Here we can marvel at one of the most spectacular sunsets in the Mediterranean and even the whole world! A fusion of the natural beauty and history of ancient Ibiza.
(More info about this watchtower by clicking here.)