Platges de Comte, or more popularly known as Cala Conta beach, is without doubt a unique spot and one of the best beaches in Ibiza, and for many visitors, one of the best beaches in the Mediterranean. Great atmosphere and fabulous restaurants to enjoy in the summertime.
Cala Conta beach is actually a set of coves with fine white sand and some rocky parts, giving it a wild touch. Ibiza at its best. Its seabeds, the sunshine of Ibiza, the clearness of its waters and being open to the sea, provoke a blast of blue color tones impossible to explain just with words. Impossible to forget the incredible sunsets there.
From the shore you can see the islets of S'Illa d'es Bosc, Sa Conillera, Ses Bledes and S'Espartar which form the "Reserva Natural dels Illots de Ponent" (Western Islets Nature Reserve).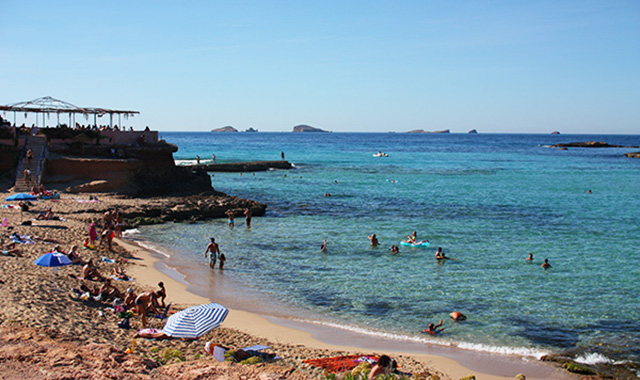 Cala Conta Beach has three gentle restaurants by the sea where you can taste its good cuisine and views.
Lets start with the beach terrace restaurant which you'll find in the left side looking towards the sea, Sunset Ashram, we could say its the most authentic place in the beach, pure Ibiza style and bohemian atmosphere. It's also the most casual of them all. The most Ibicenco beach bar. Perfect for enjoying an incredible sunset and great music. Live DJ's every day will spice up the atmosphere and seduce you with the best chill-out music.
The restaurant is very interesting, you can choose from simple dishes to more exotic and elaborated ones in Asian and Mediterranean style cuisine, which you can enjoy almost right over the beach sand. It also has a boutique where you can buy very interesting and authentic things brought directly from India. Summer scarves, sarongs, bikinis, etc.
Our second recommendation is  S'illa des Bosc Restaurant, just in front of the islet which gives it its name. The restaurant's location is unique. That alone makes it worth spending a good time there. But an excellent restaurant is presented before us where you can enjoy delicious paellas and rice dishes, fresh fish and seafood and much more… Open from noon until night time. An ideal place for celebrating your events. Just incredible!!!
And finally, in this marvelous site of Cala Conta, you'll also find  Ses Roques Restaurant. Let yourself be surprised by its Ibicenco and Mediterranean flavours on its peaceful terrace. Fresh fish and seafood, paellas, meat dishes, salads, etc. A wide range of culinary ideas that will make your visit unforgettable. A perfect choice for celebrating any kind of events and weddings in Ibiza, making your guests be truly impressed.
A truly unique place. If you haven't visited the beach of Cala Conta, you have not been in Ibiza. Enjoy!