Fall is coming and many people think that the island of Ibiza is less interesting these months. Nothing is further from the truth. There are countless activities you can do in Ibiza this time of the year, which usually still has very good weather.
Some of the most popular activities are hiking and walking excursion routes around the island. Ibiza has spectacular sceneries and landscapes, both, on the coast and inland. Beautiful beaches, gently hilly landscape covered in a layer of pine trees, both rugged and smoothe coastal sites, amazing cliffs and traditional architecture based on whitewashed walls worthwhile seeing. There are very nice walking routes, such as Es Plà de Corona, the wetlands of Ses Feixes, Es Broll de Buscastell creek and the mouth of the Santa Eulalia River, just to name a few. In the Santjosep.net and Ibizadeporte.com you can find a great selection of walking and hiking routes.
Another great activity for autumn is practicing paddle surf and kayaking. In these months there are still pretty warm temperatures yet far from the extreme heat of summer. So it's a great chance to get started in these sports. For example, in Ibizakayak.com  you can learn more about introductory and advanced courses. The same for this season's trendy watersport, paddle surf, becoming each time more popular on the coasts of Ibiza. In Supibiza.net you can learn more about all the possibilities for practicing this watersport. Both kayaking and paddle surfing allow you to discover remote beaches inaccessible by land as well as going into amazing sea caves. A whole new experience that will let you discover a different side of Ibiza.
Photo Diario rural
A good way for touring the interior and the coast of Ibiza is by bicycle. Fall, winter and spring in Ibiza have ideal temperatures for bike excursions. In the website Kandani.es  you can find a programme of customized guided bike tours and rentals, including high-end bike rentals. In the tourist info website Ibiza.travel  you'll also find a section of routes by bike and BTT Mountain Bike for doing on your own, with a description of the carachteristics of each route, including level of difficulty, specific recommendations for each route and road book with highlights of the key points of each itinerary.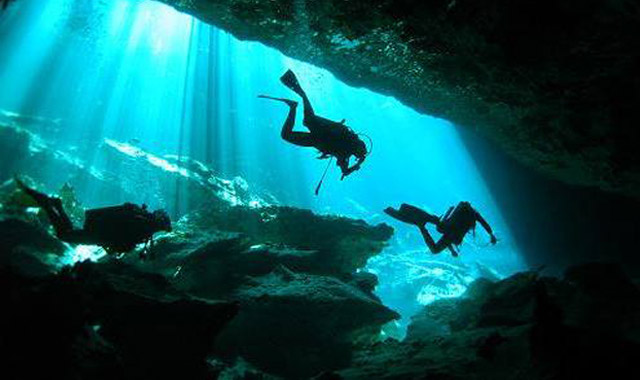 Photo Punta Dive
And finally, we recommend another ideal activity for practicing in fall: diving. Discovering the hidden natural treasures of Ibiza is possible (Posidonia seagrass meadows , underwater caves,  wrecks, and the amazing coast,..). There are many diving centers that offer courses and guided tours. Some of them also offer diving excursions to the Don Pedro, the cargo ship that sank a few years ago in the offshore islets of Es Daus. More information about courses in different languages at  Scubaibiza.com, Puntadive.com  and Subfari.net Also, on Ibizatravel's website there are links to all the diving centers and all the professional instructors who guide the diving excursions and the most amazing dives.