Ibiza is the place that best combines the nightlife with daytime leisure, and that is so that in our beautiful island there is room for everyone. It is well known that many of the best parties around the world are in Ibiza, and that the best DJ's meet every summer in our discos. But let's not forget something important… the island also offers peace and relaxation, away from the clubs and the party. If you are one of those who are looking in Ibiza for that haven of peace where to forget about work and obligations, than this post is for you! Note down these 4 Ibiza beaches where you can truly relax.  Sshhh… Don't tell anyone!
We will start our quiet beach tour in the north of the island, in Sant Joan de Labritja, which is very close to our agroturismo. In this beautiful municipality there are many corners of total tranquility and one of them is Cala d'en Serra. This is a lovely little beach cove with wild and natural surroundings "decorated" with the typical and picturesque fishermens huts. It is a great proposal for those who are looking for a secluded and quiet place. This cove is for many ibicencos an unknown place, which is not surprising, since its access is somewhat complicated. But once you reach the sand and see this virgin beach, you will be absolutely delighted. Here you'll find the little beach bar Chiringuito Cala d'en Serra, where for a very affordable price you can enjoy a delicious and varied meal with fantastic views.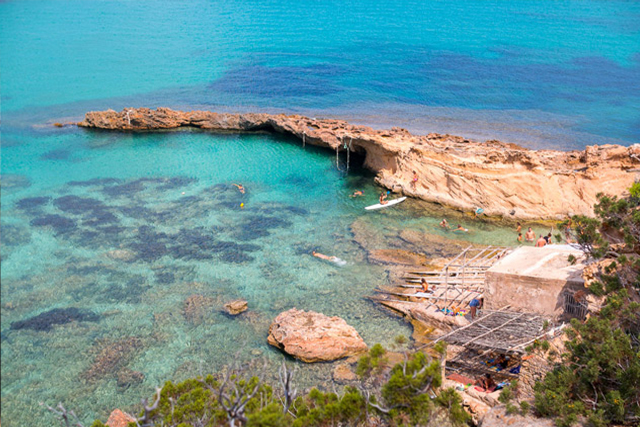 Continuing in the north, at just 5 km from Sant Joan, we find Cala Xarraca, a beach of great natural beauty with crystalline waters that invites you to relax, bathe and sunbathe in all of its corners… Without forgetting the mud! As one of the attractions of this beach, besides its beauty and peace, is the possibility of mud bathing. A must during your holidays in Ibiza.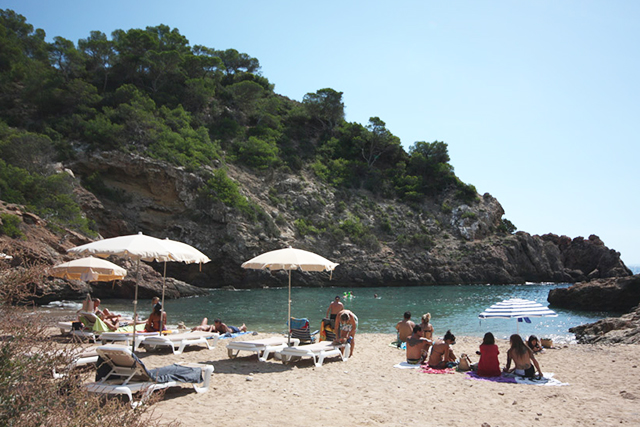 We continue with the relaxing beach route heading to the urbanization of Roca Llisa, where we find the cozy Cala Olivera, a little beach cove, of barely 50 meters long, that you won't find in the typical beach guides of Ibiza. In this virgin little cove you'll be surrounded by pine trees and wild vegetation, where there's only a small beach bar. Very peaceful and full of charm, just 10 minutes away from the busier Cala Llonga. A must.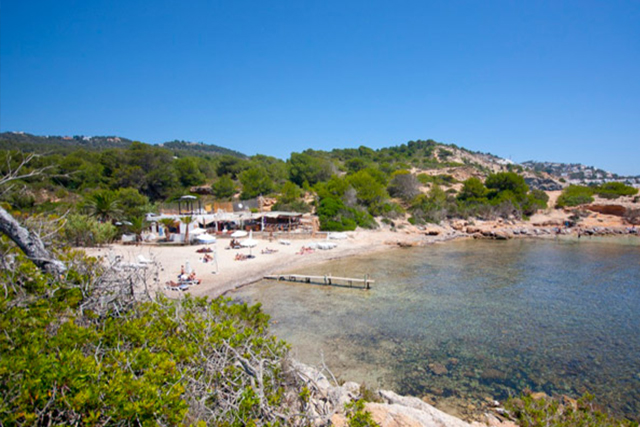 To end our recommendation of beach coves for relaxing during your holidays in Can Planells, we want to take you to Playa S'Estanyol. This beach is a little bit more crowded than the previous ones but it has the same essence of relaxation. In this little beach surrounded by pine and juniper trees there's a great snack bar where you can enjoy great rice and fresh fish dishes right on the sand and with the Mediterranean on the horizon.
Don't miss the opportunity to experience unique sensations by discovering 'the other Ibiza', and to unwind with the peace of the beach coves we've shown you here.